1. Compare South Rim Tours Side By...
Choose from 46 different activities in the Grand Canyon, from helicopter and air tours, to day trips and excursions, to float trips and comb...
More
(888) 651-9785
8525 Edna Avenue
Las Vegas, NV
89117
2. Great West Adventure Tours
The Sedona and Grand Canyon Specialists! Enjoy the scenic views of Sedona on our Sedona tours and learn all about the geology and history th...
More
(877) 367-2383
Sedona
Sedona, AZ
86336
3. Antelope Canyon & Horseshoe Ben...
Adventure Southwest offers private group hiking and sightseeing trips to amazing Southwest destinations including Grand Canyon, Horseshoe... More
4. Red Rock Balloons
Come fly the Red Rocks! Take an "Aerial Nature Walk" which is a truly magical feeling of soaring gently with the wind. Sedona's natural wond...
More
5. Pink Jeep Tours Guided Adventur...
Take advantage of the most time at the Canyon of any tour and relax as you explore one of the natural wonders of the world in a custom 10 pa...
More
FREE Birthday Month
Birthdays are a great reason to celebrate, but what's the point of a free offer on your birthday when it happens to fall on a day when you can't use it? We couldn't agree more. That's why we're offering you FREE park admission to Out of Africa Wildlife Park during the ENTIRE MONTH of your birthday! That's right! You read that correctly. Don't just come on your birthday – come the entire month of your birthday.
6. Out Of Africa Wildlife Park
Come see Tiger Splash show at 1:15 every day. Watch Bengal tigers in natural play as they "hunt" their caretakers. Open Daily 9:30 a.m.-5:00...
More
7. Red Rock Treks Sedona Hiking & ...
Journey with us to the most unforgettably beautiful landscapes in all of Arizona. Red Rock Treks offers private hiking, scenic, and vorte... More
(928) 707-9477
Sedona
AZ 86336, US
8. Predator Zip Lines
Experience the wind ripping through your hair on a thrill ride over nature's wildest predators. Enjoy the adventure of a lifetime on a ... More
SEDONA HOTELS & BED AND BREAKFASTS
Stay in Sedona and experience a luxurious resort and spa or quaint bed and breakfast with red rock views. See All Sedona Hotels & Lodging »
SOUTH RIM TOURS
Fuel your adventure on these Grand Canyon South Rim tours by helicopter, airplane, van or train. See All South Rim Tours »
GRAND CANYON HELICOPTER TOURS
Get a bird's eye view of one of the natural wonders of the world. Most tours depart Las Vegas or Tusayan. See All Helicopter Tours »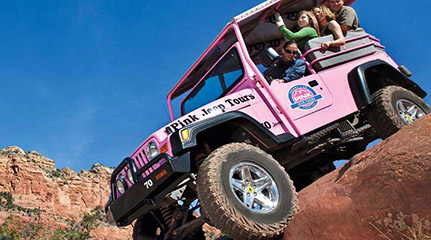 Pink Jeep Tours in Sedona and Grand Canyon
Voted by Trip Advisor as the #4 tour company in the US! Explore the Grand Canyon with entertaining and knowledgable guides.
Book a Tour »