Havasupai Falls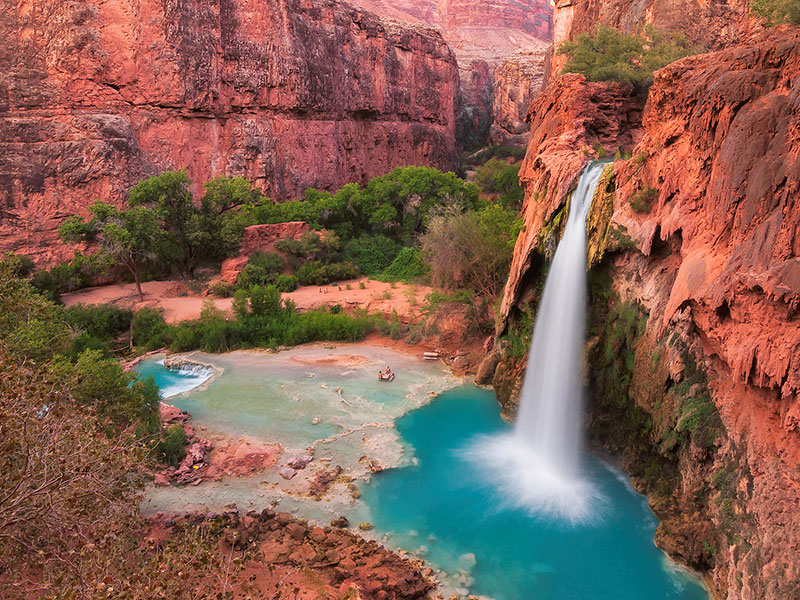 Havasupai (Havasu Falls) might just be one the the most beautiful places on Earth. There are five major waterfalls at Havasupai - Upper Navajo Falls, Lower Navajo Falls "Rock Falls", Havasu Falls, Mooney Falls and Beaver Falls. In between is an endless playground of pools, small falls, caves and beautiful nature to explore. If you're interested in making this trip, you've undoubtedly seen the countless amount of gorgeous photographs taken in this area. It really, truly looks like the photos in real life. No more convincing needed? There are definitely better ways to make this trip both more enjoyable and manageable so let's starting planning your trip.
First, thing's first. A permit it required to go down to the falls and sleep down there whether you camp or stay at the lodge in Supai Village. Permits are typically are booked out about three months in advance if not more.
Camping: 1-928-448-2121, 1-928-448-2141, 1-928-448-2174, or 1-928-448-2180
Camping Office Hours: 7am - 7pm
Lodge: 1-928-448-2111 or 1-928-448-2201
When to Go
The bottom of the Canyon can get pretty warm in the summer with reprieve offered only by trees and the cool water. April through through July are months where the water is enjoyable to swim in and the bottom of the Canyon is moderate in temperature. End of July and August is monsoon season in Arizona. This can be a tricky time to come because the river can rise and often times visitors are evacuated due to flash floods. September, October and March are also moderate weather months at the Canyon, which is great for camping, but the water might be a little on the cold side if swimming. November through February are not recommended if you plan on being in the water. Camping will be cold and perhaps staying at the lodge might be a more comfortable choice if you're not used to camping in cooler temperatures.

Getting there
Here are directions to Hualapai Hilltop, which is where your adventure begins:
http://www.havasu-falls.com/getdirections.html

There are three main ways to get to the falls: hike, horse ride or helicopter ride. The hike down from Hualapai Hilltop is to the Supai Village is about 8 miles, then another 2 miles to the waterfalls and campground. The helicopter leaves from Hualapai Hilltop as well and is about a 5 minute ride to Supai Village. The horse ride from Hualapai Hilltop is about 3 hours to the village, but you must have minimal horse riding experience to reserve a horse.

Tip: If you want to hike down but not carry a pack full of camping gear, food, water, etc., there are pack mules that can bring your gear down for your from the Hilltop to the campground.

How long should you stay?
Most people like to stay 2-3 nights. That will give you enough time to visit all the falls at a leisurely hiking and playing in the water pace. Also this is typically the amount of food and water supplies that most visitors are willing to hike in with. If you're making use of a pack mule, stay as longer. It really does feel like paradise.

Camping Office Hours: 7am - 7pm Lodge: 1-928-448-2111 or 1-928-448-220
Tweet
1. Grand Canyon Tours From Las Veg...
Every sightseeing and adventure tour of the Grand Canyon imaginable - from Las Vegas hotels to Grand Canyon National Park. Book a Grand Cany...
More
2. River Rafting Tours From Las Ve...
Every sightseeing and adventure tour of the Grand Canyon imaginable - from Las Vegas hotels to Grand Canyon National Park. Book a Grand Cany...
More
4285 North Rancho Drive
Las Vegas, NV
89130
We have a trip finder that is unique and works much like Expedia, but for Grand Canyon Rafting Trips. With filters to narrow down options based on your preferences whether it is traveling within a certain date range, by raft type, by canyon route or trip duration, our Trip Finder can help you easily explore the different options!
3. Advantage Grand Canyon
As a central reservation service for all 16 Grand Canyon Rafting Outfitters, we can help you find your ideal adventure, at no additional cos...
More
4. Papillon Helicopters
Tour Grand Canyon with the "World's Largest and Most Experienced Helicopter Sightseeing Company!" Only Papillon is a recipient of the 5-star...
More
5. Grand Canyon Expeditions
The Grand Canyon is one of the wonders of the world, and what better way to see it than from its heart, on a Colorado river rafting trip? Th...
More
6. Maverick Helicopter Tours
Maverick Helicopters provides helicopter tours to the Grand Canyon. Maverick brings VIP and first-class service to the Grand Canyon. Ma...
More
(888) 261-4414
6075 South Las Vegas Boulevard
Las Vegas, AZ
89119
7. Great West Adventure Tours
The Sedona and Grand Canyon Specialists! Enjoy the scenic views of Sedona on our Sedona tours and learn all about the geology and history th...
More
(877) 367-2383
Sedona
Sedona, AZ
86336
Grand Canyon South Rim Bus Tour with Optional Upgrades
Explore the Grand Canyon with this guided, full-day sightseeing adventure around the South Rim. Beginning in Las Vegas, travel to the Grand Canyon's South Rim and the National Geographic Visitor Center. See a number of different panoramic views from various lookout locations while learning about the history and geology of the canyon from the expert tour guide. Upgrade to include an IMAX movie and/or a scenic 2-hour Jeep tour or a breathtaking helicopter flight. Lunch and a Las Vegas hotel pickup and drop-off are included.
Book and save 44% compared to our local operator's price!
Grand Canyon West Rim Luxury Helicopter Tour
Need a break from bustling Las Vegas? Hop on board a helicopter for a luxury sightseeing tour to the Grand Canyon. Listen to informative commentary from your pilot as you get an aerial perspective on the majestic grandeur of the Grand Canyon and Colorado River. On the way, you'll also see landmarks such as Hoover Dam, Lake Mead, Black Canyon and the Las Vegas strip. Your tour includes a 30-minute stop at the Grand Canyon West airport, with time for some quick shopping at a Native American gift boutique.
Book and save between 23% and 29% compared to the local operator's price!
Deluxe Grand Canyon All American Helicopter Tour
Experience the beauty of one of America's natural wonders with a scenic helicopter tour of the Grand Canyon. This low-level flight takes travelers past the famous Hoover Dam, extinct volcanoes, and stunning Lake Mead., as well as a pass over the glittering Las Vegas Strip. This half-day tour includes a champagne picnic at 3,200 feet (960 meters) below the canyon rim and allows plenty of time for afternoon exploring after your flight concludes.
Book and save 26% compared to another travel site!
8. Helicopter & Airplane Tours Of ...
Viator offers air, helicopter & land tours to the Grand Canyon. Book a Grand Canyon helicopter tour or combine a Grand Canyon land & air exp...
More
2730 Airport Drive
North Las Vegas,
89032
9. Browse, Compare & Reserve West ...
Got just one day to see the Grand Canyon West Rim? Book one of our West Rim Tours from Las Vegas and experience everything there is to see ...
More
10. Grand Canyon Railway
Visit the official website for Grand Canyon Railway. Book your reservation online for a train tour on one of five classes of service on our ...
More
11. Wildland Trekking
Join The Wildland Trekking Co. on an epic journey to the Grand Canyon! Services include 1 to 8 day hiking adventures, tasty backcountry cui...
More
12. Red Feather Lodge
Ideally situated in the center of Tusayan, a small town one mile from the south entrance to the Grand Canyon National Park, this Grand Canyo...
More
13. Grand Canyon Airlines
Don't just view the Canyon from the rim when you can fly the Grand Canyon with a legend! Since 1927, Grand Canyon Airlines has been the prem...
More
CAMPING IN THE GRAND CANYON
Camping overnight, on the rim or in the backcountry, is a popular way to experience Grand Canyon. See All Grand Canyon Campgrounds »
HIKING & BACKPACKING IN THE GRAND CANYON
Got questions about hiking below the rim for the day, or backpacking overnight in the backcountry? See All Grand Canyon Hiking & Backpacking »
WHAT'S THE BEST TIME TO VISIT?
Wondering what's the best time to plan a Grand Canyon vacation? See Grand Canyon by Season »
SOUTH RIM VS. NORTH RIM
Are you trying to decide whether to visit the South Rim or the North Rim? Read our guide to each Rim. Find Out Which Rim is for You »