Grand Canyon National Park
The South Rim of Grand Canyon National Park is the most visited rim and accessible year round. Grand Canyon visitors who come to the South Rim often find Grand Canyon hotels and lodging in Williams, Flagstaff, Sedona and Tusayan.
South Rim Hotels & Lodging
First, decide how long you want to spend at the Grand Canyon. Most visitors only need enough time to view the Canyon, take some pictures and maybe a short walk or hike. If this sounds like your plan, one day is enough and you might want to stay in a nearby town such as Flagstaff or Sedona where there are other entertainment and dining options.
South Rim Tours
Going on a Grand Canyon tour is highly recommended. As spectacular as the Grand Canyon is to see, it's equally spectacular in its detail. Grand Canyon helicopter tours, guided hikes, ground tours and the famous Colorado river rafting trips are all worth the time and money. Knowledgeable tour guides provide insight and perspective on just how special this Natural Wonder of the World really is and what makes absolutely unqiue. South Rim tours often leave from Williams, Flagstaff and Sedona depending on the tour you take. There are also helicopter tours from the West Rim that go to the South Rim leaving from the Las Vegas area. Whatever you decide, make sure to take a little extra time to take a tour. It'll make your trip that much more worth while.
North Rim Hotels & Lodging
A visit to Grand Canyon's North Rim is well worth forfeiting the choices available amongst dozens of motels and hotels one finds on the South Rim. In fact, its remoteness is precisely what attracts many visitors to the North Rim in the first place. Staying overnight in Grand Canyon North Rim lodging could certainly mean booking a stay at the historic Grand Canyon Lodge & Cabins, but be sure to plan about a year ahead if this is your vacation itinerary.
North Rim Tours
The North Rim of Grand Canyon National Park offers a distinctly different experience to the visitor. Rather than spectatorship, most North Rim visitors opt to hike Grand Canyon, go whitewater rafting on the Colorado River or book ever-popular Grand Canyon mule rides. Here, you'll be able find experienced Grand Canyon guides that will take you deep into the decidedly more remote North Rim of Grand Canyon National Park, empowering you to dwell within its walls rather than just see it from behind a guardrail, get up-close-and-personal with the Grand Canyon in a more active way: hiking or backpacking trips and Colorado River rafting trips. Look for tours of Grand Canyon National Park North Rim departing from Lees Ferry, Flagstaff, Page, southern Utah or Las Vegas.
West Rim Lodging
The West Rim of the Grand Canyon is a travel destination that promotes the cultural experience of visiting the Hualapai Reservation and the striking views at the western rim of the Grand Canyon. Hotels and lodging at the West Rim is basically all of Las Vegas, so no matter what your preferences are in budget, amenities, dining and entertainment, you're in the perfect place to meet all your vacation needs.
If you prefer to be off the Las Vegas strip, many visitors wisely opt to stay in Kingman, just 73 miles from the entrance to Grand Canyon West. Kingman is the ingress to northwestern Arizona, the central resting stop for travelers journeying east-west along Interstate 40, which spans from Barstow, CA through Kingman and across Arizona through Williams, Flagstaff and beyond; the latter cities are gateways to Grand Canyon National Park's South Rim. Kingman also sits at the junction of I-40 with I-93 to Las Vegas, ensuring its role as the area's portal to boating and fishing on Lakes Mead, Mohave and Havasu. Sightseers won't want to miss Hoover Dam or London Bridge, each just 60 minutes from Kingman by car.
West Rim Tours
Grand Canyon's West Rim is the home of the Grand Canyon Skywalk, the horseshoe-shaped glass bridge extends 70 feet over the edge of a sheer cliff. You'll also find Grand Canyon helicopter tours and ground tours to the West Rim from Las Vegas and from Grand Canyon National Park West Rim Airport. An easy day-trip from Las Vegas, Grand Canyon Skywalk is today one of the most popular Grand Canyon destinations. Grand Canyon West is also well-known as the only place in the Grand Canyon in which helicopter tours can make their landing down in the Inner Canyon. Here you can find the right Grand Canyon West Rim tour for you.
Williams
Williams is a small town on Route 66, forty-two miles due west of Flagstaff just off Interstate 40, and it's 60 miles south of Grand Canyon National Park, making it an ideal Gateway to the Grand Canyon. Most visitors will quickly associate Williams with the romance of the railroad and vintage cars; Williams is home to the Grand Canyon Railway that runs to the South Rim daily, returning each evening to the Grand Canyon Railway resort and depot. Experience Williams' history as a railroad town (there is still an Amtrak station here) and even its former houses of "ill repute" turned bed & breakfasts and shops; enjoy the vintage signs preserved all over town; and make Williams part of your Grand Canyon vacation.
Flagstaff
Flagstaff is one of the great Gateways to the Grand Canyon for its close proximity, stunning alpine beauty, college-town conviviality, and Route 66 history. Located just 90 minutes from the South Rim, Flagstaff is where you want to stay overnight when visiting the Grand Canyon if you want a wide range of hotel, motel and lodging choices and something to do after the sun goes down. Unlike the quiet towns of Tusayan and Williams, Flagstaff offers dozens of familiar hotel and motel chains, restaurants, and shopping. And the city's Northern Arizona University student-friendly profile means that visitors, too, can enjoy the nightlife in a myriad of lively bars, casual breweries, moody clubs and rockin' entertainment venues.
Sedona
Just two hours from the Grand Canyon, Sedona, Arizona was was named "The Most Beautiful Place in America" in USA Weekend's Annual Travel Report and is a mecca for artists, film-makers, energy healers, and UFO enthusiasts and other rare interests. The things you might want to experience in Sedona are shopping, hiking, energy work, raw cuisine, art galleries and outdoor adventure tours. Sedona tours can range from guided yoga hikes to hot air balloon rides with champagne picnics.
Phoenix
Many Grand Canyon visitors fly into Phoenix Sky Harbor Airport then rent a car and drive to the South Rim. It's about a 3.5 hour drive to the Grand Canyon from the Phoenix airport, but there's many great places to explore along the way. Starting with Phoenix and Scottsdale, visitors enjoy the warm weather when the temperature is cold in other parts of the country, year round golf, fine-dining, luxury resorts, hiking and shopping.
South Rim Directions
The South Rim stays open year round due to its moderate temperature, but it still does get some snow and heavy rain during the winter occasionally. The most popular time to visit the Grand Canyon South Rim is April through September. Expect crowds and vehicle congestion during this time of year. The temperatures are in the 70° - 84° range at the top of the Canyon and gets warmer as you hike down. If crowds are not your deal, consider visiting the North Rim. There are fewer North Rim hotels and lodging options, but it's well worth "roughing it" a little for a more pristine view and intimate experience with the Grand Canyon.
North Rim Directions
The North Rim is open mid-May through mid-October and is closed for the other months due to weather conditions. Even though the approximate straight-line distance between the South and North Rims is only about ten miles, you should know that the driving distance is 215 miles, and amounts to five hours driving time. Besides the differences in the kinds of tours on which visitors see the North Rim than the South Rim, you'll also notice a few more distinctions. Most obvious is the significantly smaller crowds; also clear is the decidedly remote location of the North Rim. Accommodations, food, gas and other services are far fewer here than its southern counterpart. North Rim Grand Canyon visitors will be struck by the enormity of the Grand Canyon rather than the depth noted by South Rim visitors. The North Rim, at 8,000 feet elevation (1,000 feet greater than the South Rim) receives almost twice as much snow and experiences much colder winter temperatures.
West Rim Directions
The West Rim of the Grand Canyon is open year-round from sunrise to sunset, and is most easily accessed from Las Vegas and the Kingman area. Summer is THE most popular season for visiting Grand Canyon West. Keep in mind that with good weather comes large crowds, scarce parking and busy viewpoints and visitors centers. Year-round, be prepared to experience full sun and warm temperatures; wear tons of sunscreen and/or a wide brimmed hat and drink plenty of water.
A 3-hour (each way) day trip from Las Vegas, the West Rim of the Grand Canyon is today one of the most popular Grand Canyon destinations, but its remote location is nearly devoid of lodging and services. In fact, there is only one choice for accommodations at the Rim, and one more within 14 miles. Because of the scarcity of hotels at the West Rim, most visitors wisely choose to stay overnight in Kingman (73 miles), Peach Springs (116 miles), Laughlin, NV (111 miles) or Las Vegas, NV (123 miles.) Click here to get more detailed directions to the West Rim from surrounding areas.
Tweet
HOTELS IN OR NEAR THE GRAND CANYON
Book Grand Canyon hotels in or near the park. Reservations are often made a year in advance. See All Hotels Near Grand Canyon »
GRAND CANYON TOURS
Most Grand Canyon visitors book a tour; go by helicopter, airplane, van or train. See All Grand Canyon Tours »
GRAND CANYON RIVER RAFTING
Go by raft, pontoon or dory; motorized, oar or paddle power. Book 1 - 9 day trips on the Colorado River. See All River Rafting Outfitters »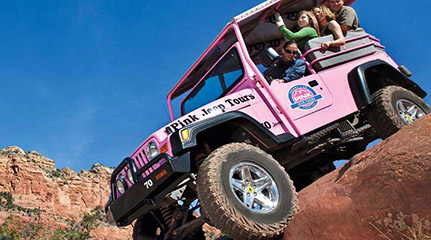 Pink Jeep Tours in Sedona and Grand Canyon
Voted by Trip Advisor as the #4 tour company in the US! Explore the Grand Canyon with entertaining and knowledgable guides.
Book a Tour »