Trip Planning Timeline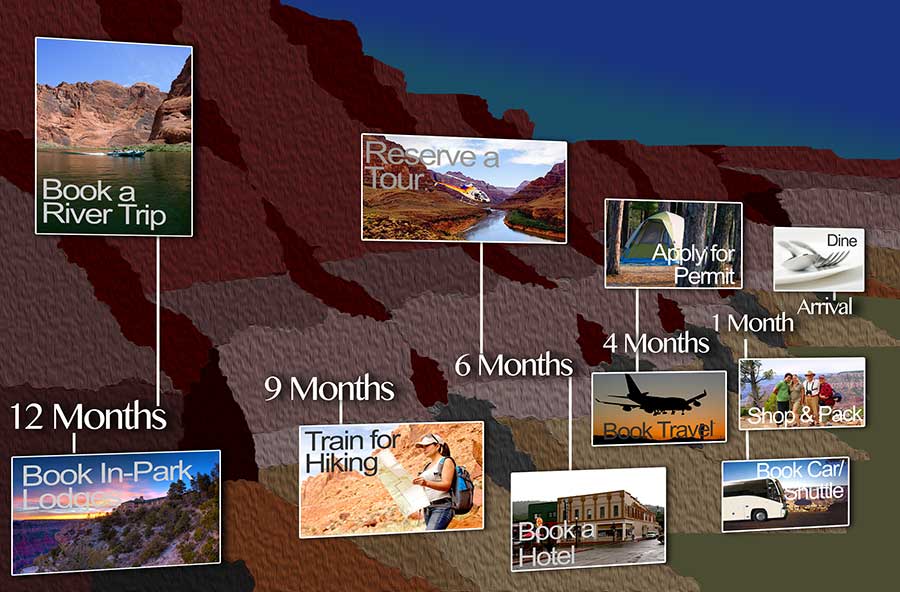 12+ Months Out
Book Grand Canyon National Park Lodges

With your trip a year or more away, you have the best chance of finding lodging close to the rim; the hotels nearest to the South, West and North Rims can be booked up to 13 months in advance, so book now if staying close to the rim is important to you. If it's not, try cities like Williams, Flagstaff, Kingman, Page, Las Vegas or Sedona for your overnight accommodations.

If you're not sure when you plan to visit, you may need to look for lodging outside the rim; the hotels nearest to the South, West, and North Rims are often booked up to a year in advance.

Book a multi-day river rafting trip

If you're planning this Grand Canyon trip as a once-in-a-lifetime kind of vacation, with significant resources dedicated equal to making it forever memorable, the world is your oyster. At the North Rim, visitors with about a year to plan and a big or even unlimited budget have access to 'bucket-list' activities such as 3, 7, 14 or even 18-day Colorado River whitewater rafting trips.
Was this helpful?
9 Months Out
Start training for any hiking you plan to do.

The better physical shape you're in, the more you will enjoy your Grand Canyon hike. Therefore, it's wise to start training for your adventure as early as 9 months out in order to give you plenty of time to start slow and gradually work up to your peak physical condition. Starting slowly and increasing your endurance and strength over time will protect your joints, build muscle and strengthen your cardiovascular system; it's also key to minimizing soreness and keeping at your routine so you don't abandon your training program.

Train three times a week doing your choice of cardio workouts for at a minimum of one hour per day. Walking up and down hills, gradually carrying more and more weight - 10-15 lbs for a day hike; 25-35 lbs for a backpacking trip - is an ideal training exercise for hiking the Grand Canyon, but cycling, running, step-aerobics, stair-climbing and swimming are excellent options. Your endurance will build if you work out at least once a week for an hour straight; other days, your 60-minute workouts can be broken up into morning and evening sessions.

As with any exercise regimen, check with your doctor first to ensure you're well-suited to your training plan. Be aware that 7,000-8,000 ft elevation and the Canyon Rim's thinner air, plus steep, dry and hot conditions - which are present year-round in the Inner Canyon - will exacerbate asthma and any heart, joint or muscle conditions, so use caution and be sure to train and hike within your ability level.

Finally, shop for and get fitted for a pair of sturdy hiking boots now and wear them for your training; they must be well broken-in by the time you execute your Grand Canyon hike.
Was this helpful?
6 Months Out
Reserve a tour such as a helicopter, air, or railway tour

Anecdotally, we know that most Grand Canyon South Rim visitors travel to the destination and spend time at overlooks, visitors centers, ranger-led talks, and walk or hike short distances. But up to 6 months before your trip, you might want to consider booking a comfortable van, bus, coach or train tour (or safe and reliable helicopter/air tour.) These are a wonderful ways to spend your time at Grand Canyon.

There are tours and activities available all over Grand Canyon. Take a ground tour to various scenic overlooks, walk on the glass-bottomed Grand Canyon Skywalk, tour Hoover Dam from above and below, explore underground caverns, drive all-terrain vehicles on a wilderness tour, experience the thrill of a simulated train robbery on the Grand Canyon Railway, take a mule ride to the Colorado River, or watch an IMAX movie about Grand Canyon.

Book a hotel

With your trip several months away, you have a possibility of finding lodging close to the rim; the hotels nearest to the South, West and North Rims are often booked up to a year in advance, but it's worth trying to find a room if staying right on the rim is important to you. If you're not planning to, or are unable to book a National Park lodge, book your hotel reservations near the park in Tusayan, Williams, Flagstaff or Las Vegas. Check out our Grand Canyon booking tool and select your dates to view and compare rates and availability at hotels all over the greater Grand Canyon area.
Was this helpful?
4 Months Out
Apply for a Backcountry Permit

To backpack and camp below the Rim overnight, you will need to apply for and obtain a Backcountry Permit from the National Park Service. This is true for undeveloped areas on the rim as well. (Camping in developed areas is restricted to existing campgrounds.) Go here for info and the forms: http://www.nps.gov/grca/planyourvisit/backcountry-permit.htm. Requests must be made in person or by mail or fax. Telephone and email requests are NOT accepted.

The Backcountry office is the same group that will issue your permit and reserve your campsite if available.

Applying well in advance (up to, but no more than 4 months) is recommended although a small number of permits are sometimes available for the same day.

Book your travel - flight, Amtrak or ground transportation

There are several ways to get to the Grand Canyon using one or a combination of the helicopter, airplane, auto, or even Amtrak train.

Fly commercial into Phoenix Sky Harbor International Airport and drive 231 miles (372 km) to the South Rim. Phoenix Sky Harbor is the closest major international airport to the Grand Canyon and the most popular choice for those looking to fly and drive to the Canyon.

Drive to the Grand Canyon - see our FAQs for directions from several starting points and the driving distances chart below for more information.

Amtrak train service. Visit Amtrak.com, keyword FGG, for information about the Flagstaff Amtrak station and to search rail fares and schedules.
Was this helpful?
1 Month Out
Reserve a rental car or shuttle transportation

Renting a car and driving yourself is a great way to get to the South Rim. The expense of renting a car or fueling your own vehicle is comparable to the total cost of shuttle(s), and you'll have greater freedom when it comes to where, when and how you decide to get around. Arizona is a vast state, so even in the cities and towns, you'll find that points of interest are too spread out to reach on foot, there is little to no public transportation, and cabs must be scheduled as opposed to caught; a rental or private vehicle will become necessary at some point, so you might as well drive yourself everywhere.

Shuttle service from Phoenix to Flagstaff and Flagstaff to Grand Canyon Village can be arranged through A Friendly Cab. For other options, check out our sister website, Flagstaff.com for Flagstaff Shuttles and Transportation.

Check the weather; pack your bags

Spring and summer are the most popular times to visit the Grand Canyon at all three rims. Shop for and pack your back with light layered clothing, a hat with a brim, sunscreen, a waterproof outer layer, comfortable shoes for walking (hiking boots for hiking) and your camera gear (batteries, SD card, etc.)

If you plan to hike, be sure to wear broken-in, well-fitting hiking boots (you've broken them in during your training regimen, right?) and light layers you can take off and put on as you descend into and climb out of the Canyon. This is crucial year-round because the temperature rises approximately 5.5 degrees for every 1,000 you drop in elevation, which means that the temperature inside the Inner Gorge can be up to ~27 degrees warmer than on the rim. This is of particular importance in the summer months where the temperature on the floor of the Grand Canyon ranges from 91°F to 102°F. For a complete list of average monthly temperatures at the South, North and West Rims, click here.

On top of the South and North Rims, you'll be at 7,000 - 8,000 feet above sea level, respectively, so be prepared for cooler temperatures and wind year-round. In the winter, pack a winter hat, gloves, and a heavier outer layer that will allow you to comfortably stand outdoors for up to 30 minutes. Sunscreen is still an important essential for your winter trip; the thin atmosphere and cloud cover can make one extra susceptible to UV rays, sunburn and discomfort.
Was this helpful?
Upon Arrival
Park Newspaper

A digital copy of the Grand Canyon National Park Newspaper - "The Guide" - may be downloaded at http://www.nps.gov/grca. Upon your arrival at the park, a paper copy of The Guide as well as the Accessibility Guide for disabled visitors are available upon request at any of the visitor centers. Inside you'll find maps, information, the in-park shuttle schedule and routes, list of the daily ranger-led programs and more. Inquire at visitor centers for specifics.

Dining

Once you arrive, you'll understand why it's not necessary to plan your meals ahead of time. Your choices of restaurants at the Grand Canyon are limited and easy to access, so there's not much to think about ahead of time. Dining in and around Grand Canyon National Park is somewhat limited. But the National Park service eateries, cafeterias and dining rooms within the park are easily accessible and provide a decent meal for a reasonable value. Two experiences not-to-be-missed are lunch or dinner overlooking the Rim at the El Tovar Dining Room or a meal at the fine-dining Arizona Room, located at Bright Angel Lodge.

Outside the park, you'll find a handful of pizza parlors, fast-food chains, mom-and-pop diners and hotel restaurants in Tusayan. Venture further to Williams and you'll find the choices increase, offering Mexican food, a brewery, a breakfast place and steakhouses. Continue further to Flagstaff, southeast of the South Rim, where you'll find all the dining options you would find in any mid-sized city or college town. Breweries galore, bars, fine-dining, farm-to-table, vegetarian, cafes, coffee shops, sandwich shops and international flavors.
Was this helpful?
Tweet
HOTELS IN OR NEAR THE GRAND CANYON
Book Grand Canyon hotels in or near the park. Reservations are often made a year in advance. See All Hotels Near Grand Canyon »
SOUTH RIM VS. NORTH RIM
Are you trying to decide whether to visit the South Rim or the North Rim? Read our guide to each Rim. Find Out Which Rim is for You »
GRAND CANYON'S NEAREST AIRPORTS
Most visitors fly into Phoenix or Las Vegas and drive to the Grand Canyon. Learn how: See All Nearby Grand Canyon Airports »
CAMPING IN THE GRAND CANYON
Camping overnight, on the rim or in the backcountry, is a popular way to experience Grand Canyon. See All Grand Canyon Campgrounds »