Grand Canyon National Park Lodges
Of the estimated five million visitors who will travel to the Grand Canyon this year, about half plan to stay at one of the Grand Canyon National Park Lodges. With seven lodges and one trailer village within the National Park, one needs to apply advance planning and a little luck to secure such coveted reservations at the Grand Canyon Lodges. For reservations and information about the Grand Canyon National Park lodges, please visit Xanterra Parks & Resorts website dedicated to South Rim lodges, and the Forever Resorts website for the North Rim lodge. But if you find you're not one of the lucky ones to get a room on the Rim, be sure to check out our recommendations for lodging in the nearby towns of Tusayan and Williams, Flagstaff and Sedona.
Grand Canyon South Rim Lodges: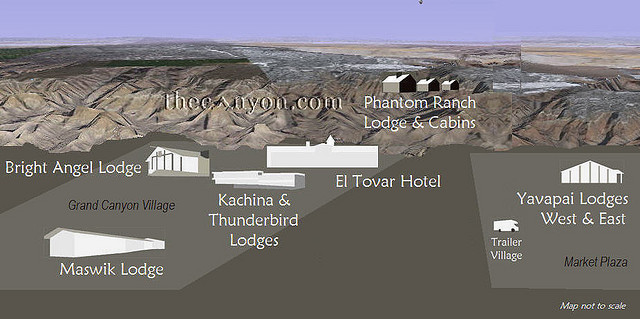 As you can see on our map of the Grand Canyon South Rim lodges, there are five lodges atop the South Rim: Bright Angel Lodge, El Tovar Hotel, Kachina-Thunderbird Lodges, Maswik Lodge and Yavapai Lodge. Also accessible from the South Rim is the immensely popular Phantom Ranch Cabins, the only lodging nestled down in the Inner Canyon. Finally, services and hook-ups for your recreational vehicle (RV) are available at Trailer Village, located atop the South Rim inside Grand Canyon Village.
Bright Angel Lodge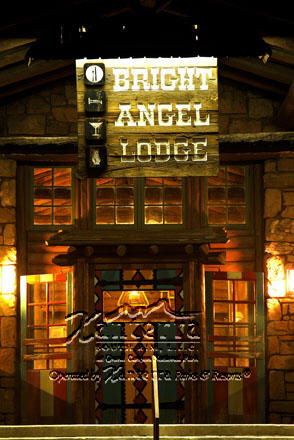 Bright Angel Lodge is located just steps from the edge of the South Rim; many of its rooms offer spectacular Grand Canyon views. Bright Angel is an ever-popular epicenter for South Rim overnights and daytime activity. With its rustic and historic charm, this early-20th century lodge is the hub for South Rim Grand Canyon mule rides and the check-in point for both the Thunderbird and Kachina lodges. Home to the famed Arizona Room, the Grand Canyon's fine dining destination, Bright Angel Lodge also features a casual restaurant, summertime ice-cream parlor and a tours and activities desk. Bright Angel Lodge is open year-round and can be booked on the Xanterra website.
El Tovar Hotel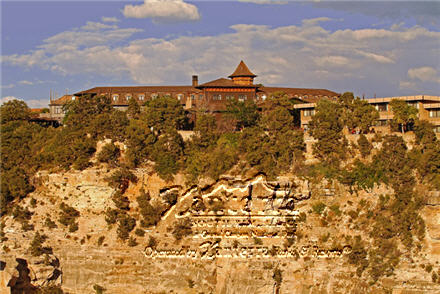 With its signature cupola crowning the roofline, the El Tovar Hotel has delighted Grand Canyon tourists for over a century. Built in 1905 and renovated in 2005, the El Tovar features 78 elegant rooms and suites as well as a fine-dining restaurant, gift shop and full-service activities concierge. This Registered National Historic Landmark is perched on the edge of the Grand Canyon South Rim, with many of its guest rooms offering at least partial Grand Canyon views.
Kachina Lodge and Thunderbird Lodge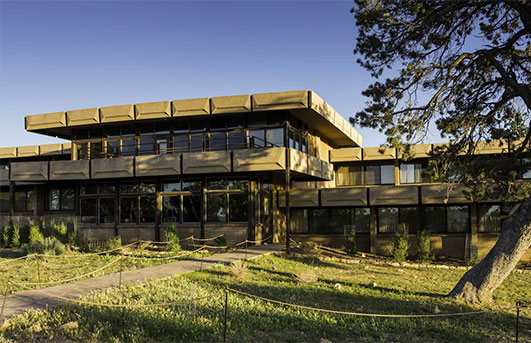 These two contemporary lodges are located between Bright Angel Lodge and El Tovar Hotel, within a short walk of the neighboring lodges. Situated on the edge of the South Rim, Kachina and Thunderbird Lodges are a perfect choice for families and groups. Half of the rooms at Kachina and Thunderbird have at least partial canyon views. These are the ideal accommodations for visitors who want to wake up to the sights of the Grand Canyon before numbers of other visitors descend upon the park.
Maswik Lodge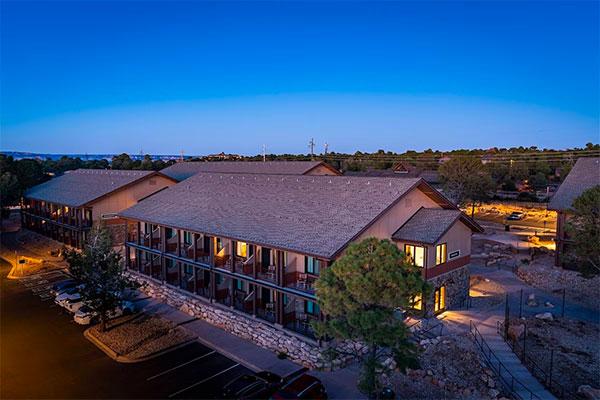 Maswik Lodge is a contemporary, motel-style lodge located an easy quarter-mile walk from the Grand Canyon edge. Nestled in the Ponderosa Pine forest, Maswik Lodge features a cafeteria, sports bar, gift shop and tours and activities desk.
Yavapai Lodge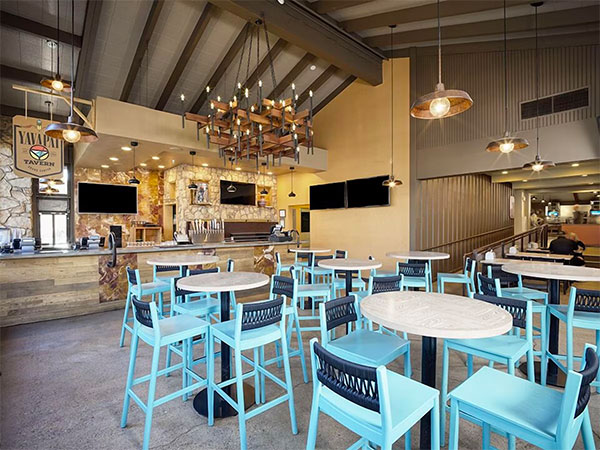 Located just east of Grand Canyon Village at the Market Plaza, Yavapai Lodge is comprised of two large facilities called Yavapai West and Yavapai East. Yavapai Lodge is the largest of the Grand Canyon National Park Lodges, with 358 rooms altogether. Atop the South Rim's juniper and pinon pine-covered plateau, Yavapai Lodge is located an easy half-mile walk north-south to the canyon's brink. Also within a half-mile east-west walking distance is the Grand Canyon National Park Visitors Center; the lodge's walkability is good because the Visitors Center is not accessible by car since it was built to be the Park's terminus for a mass-transit system that is not yet in operation. Yavapai Lodge is a good choice for families.
Phantom Ranch Cabins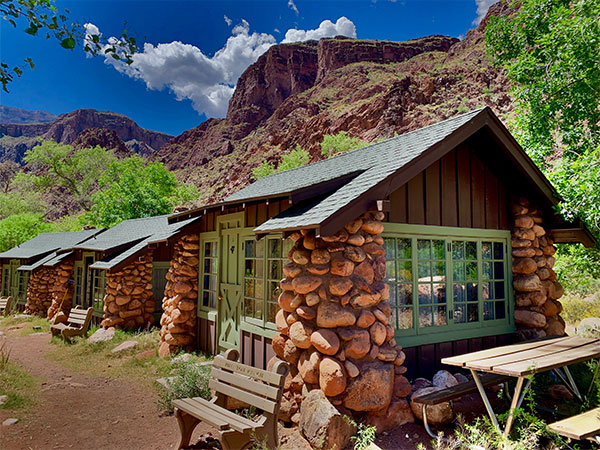 Located a little over 9 miles down Bright Angel Trail or Kaibab Trail into the Inner Canyon - by mule or on foot - Phantom Ranch is just north of Bright Angel Campground on the north side of the Colorado River. This markedly in-demand destination is made up of just eleven cabins and is a favorite overnight spot for hikers, riverrafters and muleriders alike. Reservations are available year-round at Phantom Ranch and can be made up to 13 months in advance. There is a separate reservation process for Phantom Ranch; reservations must be made through Xanterra Parks and Resorts on their website or by phone. For more in depth information, please see Xanterra's website and check out NBC's Today Show article naming Phantom Ranch one of the nation's top National Park lodges.
Trailer Village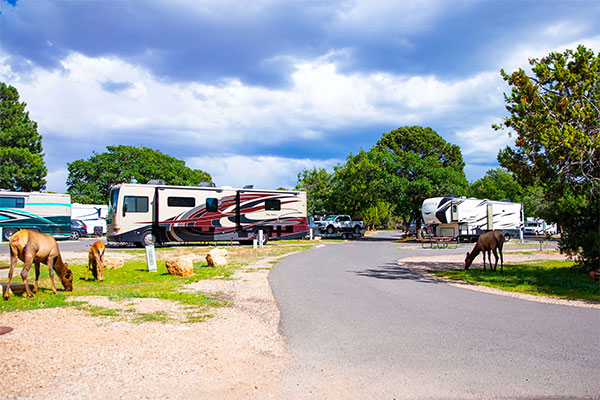 If you are traveling by recreational vehicle, or RV, to the Grand Canyon, you too can stay inside the park at the National Park's Trailer Village. Located near Market Plaza and Yavapai Lodge, Trailer Village provides full hookups (electrical, cable, water and sewage) and pull-through, paved sites for vehicles up to 50 feet long. Just a half-mile walk to the Grand Canyon's edge, Trailer Village is well-located to all the sights and conveniences of the park and Market Plaza, and each site features a picnic table and barbecue grill to add to your camping fun.
---
Grand Canyon North Rim Lodge: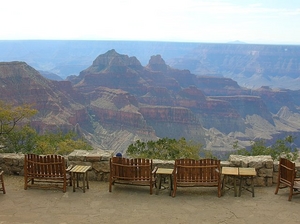 The Grand Canyon Lodge and Cabins is the sole in-park accommodation on the North Rim. Only about ten percent of the Grand Canyon's five million annual visitors go to the North Rim, but lodging at the Grand Canyon Lodge is still in greater demand than supply. Make your reservations early, as much as 13 months in advance, to stay at the historic Grand Canyon Lodge's main motel-style facility or its many cabins. The Grand Canyon Lodge offers 174 cabins in three different models: Frontier, Western and Pioneer cabins sleep 3, 4 and 5 adults respectively. In addition, 40 motel-style rooms are available. A comfortable, casual accommodation, this National Historic Landmark features timbered ceilings and limestone walls that harmonize with the landscape of the surrounding Kaibab Plateau.

Tweet
1. Papillon Helicopters
Tour Grand Canyon with the "World's Largest and Most Experienced Helicopter Sightseeing Company!" Only Papillon is a recipient of the 5-star...
More
2. Maverick Helicopter Tours
Maverick Helicopters provides helicopter tours to the Grand Canyon. Maverick brings VIP and first-class service to the Grand Canyon. Ma...
More
(888) 261-4414
6075 South Las Vegas Boulevard
Las Vegas, AZ
89119
3. Grand Canyon Expeditions
The Grand Canyon is one of the wonders of the world, and what better way to see it than from its heart, on a Colorado river rafting trip? Th...
More
4. Grand Canyon Railway
Visit the official website for Grand Canyon Railway. Book your reservation online for a train tour on one of five classes of service on our ...
More
5. The Ultimate Off Road Adventure
At Guidance Air in Sedona, we fly Robinson helicopters, specifically the R44 and R66, which have unrivaled views. This means clear views fro...
More
(928) 351-1000
1200 Airport Rd
Sedona, AZ
86336
6. Great West Adventure Tours
The Sedona and Grand Canyon Specialists! Enjoy the scenic views of Sedona on our Sedona tours and learn all about the geology and history th...
More
(877) 367-2383
Sedona
Sedona, AZ
86336
7. Wildland Trekking
Join The Wildland Trekking Co. on an epic journey to the Grand Canyon! Services include 1 to 8 day hiking adventures, tasty backcountry cui...
More
8. Browse, Compare & Reserve West ...
Got just one day to see the Grand Canyon West Rim? Book one of our West Rim Tours from Las Vegas and experience everything there is to see ...
More
9. Red Feather Lodge
Ideally situated in the center of Tusayan, a small town one mile from the south entrance to the Grand Canyon National Park, this Grand Canyo...
More
We have a trip finder that is unique and works much like Expedia, but for Grand Canyon Rafting Trips. With filters to narrow down options based on your preferences whether it is traveling within a certain date range, by raft type, by canyon route or trip duration, our Trip Finder can help you easily explore the different options!
10. Advantage Grand Canyon
As a central reservation service for all 16 Grand Canyon Rafting Outfitters, we can help you find your ideal adventure, at no additional cos...
More
11. River Rafting Tours From Las V...
Every sightseeing and adventure tour of the Grand Canyon imaginable - from Las Vegas hotels to Grand Canyon National Park. Book a Grand Cany...
More
4285 North Rancho Drive
Las Vegas, NV
89130
Grand Canyon South Rim Bus Tour with Optional Upgrades
Explore the Grand Canyon with this guided, full-day sightseeing adventure around the South Rim. Beginning in Las Vegas, travel to the Grand Canyon's South Rim and the National Geographic Visitor Center. See a number of different panoramic views from various lookout locations while learning about the history and geology of the canyon from the expert tour guide. Upgrade to include an IMAX movie and/or a scenic 2-hour Jeep tour or a breathtaking helicopter flight. Lunch and a Las Vegas hotel pickup and drop-off are included.
Book and save 44% compared to our local operator's price!
Grand Canyon West Rim Luxury Helicopter Tour
Need a break from bustling Las Vegas? Hop on board a helicopter for a luxury sightseeing tour to the Grand Canyon. Listen to informative commentary from your pilot as you get an aerial perspective on the majestic grandeur of the Grand Canyon and Colorado River. On the way, you'll also see landmarks such as Hoover Dam, Lake Mead, Black Canyon and the Las Vegas strip. Your tour includes a 30-minute stop at the Grand Canyon West airport, with time for some quick shopping at a Native American gift boutique.
Book and save between 23% and 29% compared to the local operator's price!
Deluxe Grand Canyon All American Helicopter Tour
Experience the beauty of one of America's natural wonders with a scenic helicopter tour of the Grand Canyon. This low-level flight takes travelers past the famous Hoover Dam, extinct volcanoes, and stunning Lake Mead., as well as a pass over the glittering Las Vegas Strip. This half-day tour includes a champagne picnic at 3,200 feet (960 meters) below the canyon rim and allows plenty of time for afternoon exploring after your flight concludes.
Book and save 26% compared to another travel site!
12. Helicopter & Airplane Tours Of...
Viator offers air, helicopter & land tours to the Grand Canyon. Book a Grand Canyon helicopter tour or combine a Grand Canyon land & air exp...
More
2730 Airport Drive
North Las Vegas,
89032
13. Grand Canyon Tours From Las Ve...
Every sightseeing and adventure tour of the Grand Canyon imaginable - from Las Vegas hotels to Grand Canyon National Park. Book a Grand Cany...
More
14. Grand Canyon Airlines
Don't just view the Canyon from the rim when you can fly the Grand Canyon with a legend! Since 1927, Grand Canyon Airlines has been the prem...
More
GRAND CANYON HOTELS & LODGING
Book your hotel or lodging at the Grand Canyon, or nearby in Williams, Flagstaff or Sedona. See All Grand Canyon Hotels & Lodging »
WILLIAMS HOTELS & LODGING
Stay overnight in Williams; this Gateway to the Grand Canyon just off I-40 on Route 66 is the most accessible. See All Williams Hotels »
FLAGSTAFF HOTELS & CABINS
Book a hotel, motel or cabin in this vibrant mountain town just 45 minutes from the South Rim. See All Flagstaff Hotels & Lodging »
SEDONA HOTELS & BED AND BREAKFASTS
Stay in Sedona and experience a luxurious resort and spa or quaint bed and breakfast with red rock views. See All Sedona Hotels & Lodging »