Grand Canyon Caverns
Located just a few miles east of Peach Springs, Arizona, the Grand Canyon Caverns offers guests the opportunity to tour, stay, and dine in one of the largest dry caverns in the United States. These caverns are between 200-300ft below the surface and were created approximately 65 million years ago. Dry caverns compose only 3% of caverns in the world. Because of the lack of water, stalagmites and stalactites are rare in the caverns. During the Mississippian Period around 345 million years ago, the southwestern part of the United States was under ocean water. Skeletons of sea life settled in the mud, eventually hardening and creating the limestone bedrock in the caverns today. Over millions of years, the bedrock was pushed up to over 5,000 feet (1,500 m) above sea level.
Grand Canyon Cavern Tours
Grand Canyon Tavern tours begin with an elevator ride that takes you about 200 ft underground. The tour is about 3/4 mile long and takes about 45 minutes to explore. You'll see The Chapel of the Ages, The Halls of Gold, The Devil's Den, Snowball Palace, and Mammoth Dome. Visitors also learn about ancient waterfalls, fossils, Grape Clusters, Cave Coral, and Winter Crystal. The Cavern walkways are all paved with handrails. There are some inclines and stairs towards the end of the tour. An easy, short tour is also available upon request.
The Grand Canyon Caverns also offers other amenities like a gift shop, restaurant, motel not located underground, gift shop, and RV park with full hook-ups and campsites, an airstrip, and of course, a classic Route 66 gas station RV. If you want to make your visit an epic adventure, stay at the Grand Canyon Caverns before or after your Havasupai Falls adventure as it is located 65 miles (1hr 20min drive) apart from each other. You'll still have to lock in a highly coveted permit for Havasupai Falls, which you can find out more about on our Havasu Falls information page. Also, the staff at Grand Canyon Caverns might be able to help you visit the Falls as they have been able to acquire visitor permits in the past. But the Grand Canyon Caverns is a convenient and unique home base for visiting all the great sites and history around the Grand Canyon area.
CAVERN GROTTO
Dine 200 feet underground in this Arizona cave restaurant. Reserve a seat for this unique dining experience.
TOURS & ACTIVITIES
There are several time lengths and levels of adventure when it comes to Grand Canyon Cavern tours, activities and exploration. Choose the best one for you!
UNDERGROUND CAVE SUITE
Spend the night in one of the oldest, darkest, deepest, quietest, and largest suite rooms in the world. The room is completely furnished with all amenities one would need. There is only one room available in the caverns but you can opt to stay in one of several available motel rooms above ground.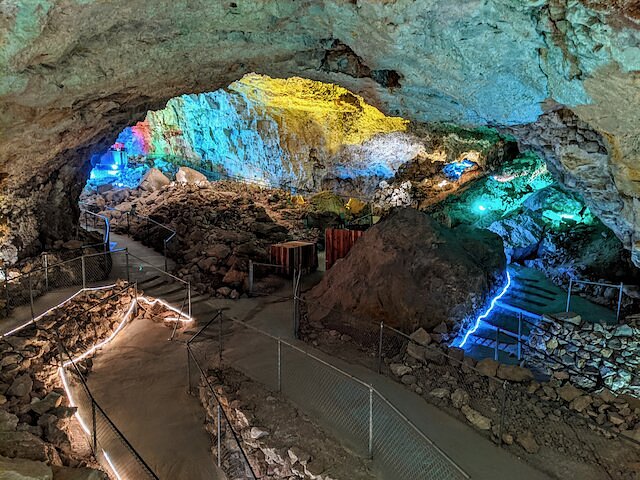 Create a trip to the Grand Canyon Caverns that includes a visit to the Historic Route 66 Museum and a stroll through Peach Springs! Start at the museum, where you'll learn about the famous route's history over the years. Then take a walk back in time to the days of ol' Route 66. Peach Springs is said to be the inspiration for Radiator Springs from the Pixar movie "Cars". Then head to the Grand Canyon Caverns, go for a tour and enjoy lunch at Caverns Grill. To book a cavern tour, call Grand Canyon Caverns direct for tour information: (928) 422-3223
---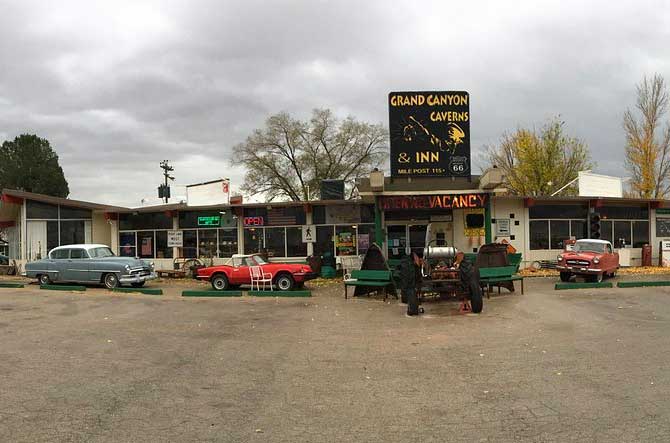 Grand Canyon Caverns Inn
Featuring a restaurant, seasonal outdoor swimming pool, garden and free WiFi, Grand Canyon Caverns Inn is located in Peach Springs, one mile from Grand Canyon Caverns Airport and 4.9 miles from Yampai. 6.8 miles from Nelson and 6.9 miles from Hualapai Airport, the property provides barbecue facilities and a terrace. The property has a shared kitchen, and organizing tours for guests.
Please note that these are the rooms at the above ground level motel and not the suite underground. Please contact Grand Canyon Caverns directly to book the underground suite. (928) 422-3223
BOOK YOUR STAY »
---
MORE THINGS TO DO NEAR GRAND CANYON CAVERNS
---
---
---
---
---
---
---
---
---
---
---
---
---
---
---
---
---
---
---
---
---
---
---