Havasu Falls & Havasupai Falls Arizona
Havasu Falls is the most famous of the aqua-blue Havasupai Waterfalls that spill over deep-orange, travertine cliffs in a desert oasis of stunning beauty. The stark contrast between the arid desert landscape of the Havasu Canyon and the lush vegetation near the water is a juxtaposition of harsh desert and a sumptuous tropical paradise. The five Havasupai Falls include: Navajo Falls, Fifty Foot Falls, Havasu Falls, Mooney Falls and Beaver Falls. All are located on the Havasupai Indian reservation in a side canyon of the Grand Canyon. The waterfalls of the Grand Canyon are like no other in the world, and visiting them is the opportunity of a lifetime.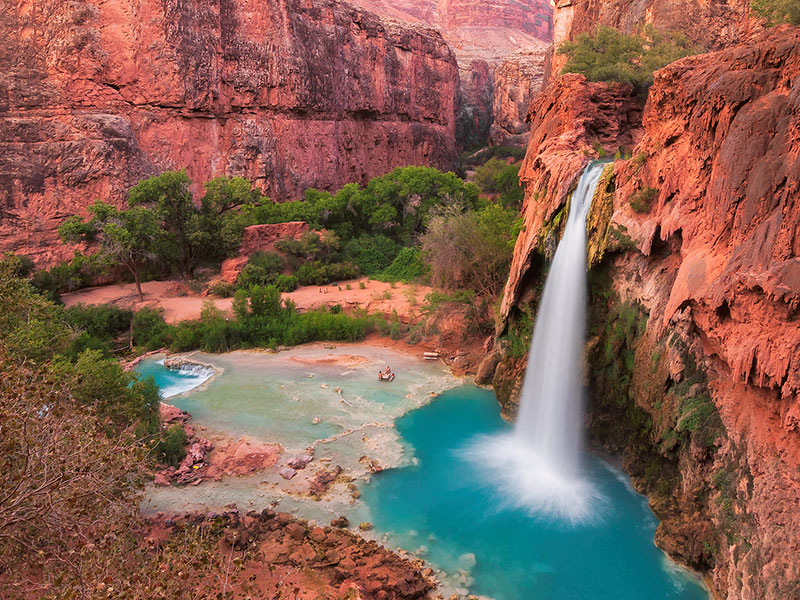 ---
Plan Your Trip to Havasupai Falls
In order to maintain the pristine beauty of this isolated desert paradise, the Havasupai tribe limits the number of visitors allowed to visit the reservation. There is no day hiking permitted in the canyon. Any visitor must have a reservation and entrance fees are now paid in advance. The cost is $100-$125 per person/night including all taxes and environmental fees. These fees can be paid upfront online when you make your reservation. Permit reservations typically begin
February 1st
of each year, but don't wait to make your reservation. Most permits are taken up within the first few hours of becoming available. If you're planning on going with a group, have one member purchase all of your permits (up to four per account). This will help ensure you all get the same dates. Once you successfully attain a permit, keep your receipt with you as you make your way down Havasu Canyon, as there are checkpoints to verify all visitors have paid.
2023 Havasupai Falls Reservations Info & Tips
Tip: Opening Day is when campground reservations for the season go on sale. Typically, all permits get claimed within hours on the first day. If you want a chance at getting a reservation, create an account on https://www.havasupaireservations.com prior to opening day of sales and be ready to go by 8 AM on when the reservation calendar for the season opens up.
ALL visits to Havasupai and Havasu Falls require a reservation made PRIOR to arrival.
The campground is a "camp wherever you want" campground running for over a mile on both sides of Havasu Creek between Havasu Falls and Mooney Falls in the Grand Canyon.
PRICING AND RESERVATION RULES
$100 per person per weekday night / $125 per person per weekend night (Friday/Saturday/Sunday nights)
All campground reservations will be for 3 nights / 4 days.
Prices now include all necessary permits, fees, and taxes.
Estimated total: $300-$375 per person for this trip if hiking. Add $170 for round trip helicopter transportation.
There will be NO phone reservations this year. Please do NOT call unless you have actual customer service question.
NO commercial permits will be given to tour companies, therefore, there are no commercially guided trips to Havasupai Falls. You MUST get a reservation privately through the tribe's website.
There is only one name on the reservation - and a reservation is only valid if the person named on the reservation is present at the Tourist Check-in Office in the Village of Supai (on the way to the campground) with photo ID - otherwise the reservation is NOT valid and will NOT be honored. People included on your reservation may reimburse you for up to the face value cost of their spot on your reservation. Native American discounts are processed upon check-in with a valid reservation and identification. All reservations are paid in full at the time the reservation is made and are non-refundable, non-transferable, and non-changeable. Reselling of reservations (in whole or in part) is strictly prohibited. Trip/travel insurance is thus highly recommended.
WHAT HAPPENS IF I DON'T GET A PERMIT BEFORE IT ALL SELLS OUT? CAN I STILL GO?
Maybe! There is a possibility of purchasing permits throughout the year via HavasupauReservations.com. This website allows those who were able to get a permit to sell it back through the website. The prices remain the same as if you had been able to purchase it directly from the website when permits were first released. This permit cancel/transfer is only for the purpose of allowing those with who got permits who are no longer able to make the trip the opportunity to get their money back since there are no refunds through the Havasupai Tribe. It also allows the name on the permit to be reregistered to the new permit owner. Because it is an exchange, dates, number of days at the falls and number of people permitted are subject to the permit being released. Check the website often to see availability.
» To see available permits, create an account on www.havasupaireservations.com or sign in, and click the Cancellations/Transfer button.
---
How To Get To Havasupai Falls
Anyone who wishes to visit the waterfalls must choose one of three options:
Hike
There are no roads to the Supai village. Access to the village is via trail that begins at Hualapai Hilltop. From Hualapai Hilltop, it is 8 miles to the Supai village and 2 additional miles to camping and waterfalls. * Please Note: Hiking in the middle of the day is not wise, especially during the summer months. Most hikers begin just before sunrise to take advantage of the cooler morning temperatures. There is no drinking water available at any point along the hike. Each person should carry a minimum of 1 gallon of water to avoid dehydration. Hiking at night is not recommended.
Helicopter
Helicopter travel is provided by Airwest Helicopters and is weather dependent. Cost for a helicopter ride into the canyon is $85 per person each way. Each person is allowed 1 carry-on bag. Any additional luggage is charged by weight. Children 2 years and younger fly free. Reservations for helicopters cannot be made. You must show up at Hualapai Hilltop and sign in before 10am. Tribal members receive priority boarding. Tourists are boarded on a first-come, first-served basis. It takes approximately 15 minutes to fly from Havasupai Hilltop to Supai village. In order to see the waterfalls, you will still need to hike 2+ miles from the village. For more information, call Airwest Helicopters (623) 516- 2790.
Pack Mule
Pack mules are available. Please consider hiking in your own gear or taking a helicopter as your primary option.
Where to Stay At Havasupai Falls
The Lodge - Reservations can be made by telephone (928) 448-2111. The cost of a room with two double beds is $145 plus 10% tax per room, per night (maximum four people per room). There are only 24 rooms available and they tend to book very quickly.

Campground There are enough campsites to host 300 campers per night. Reservations can be made via phone (928) 448-2121. The tribe begins taking reservations on February 1st of each year and sites book up very quickly. The campsites themselves are not assigned. They are given on a fist come, first served basis when you arrive at the bottom of the canyon. Campsites cost $25 (plus 10% tax) per person, per night.
When To Visit Havasupai Falls
Havasu canyon is open to visitors year-round; however, peak tourist season is May through September. Water temperatures average 60 -70 degrees Fahrenheit during these months. Monsoon season in Arizona begins in mid-July and extends through August. Heavy rains cause flash floods during this time and evacuation of visitors due to high water is not unheard of. The shoulder season of September through November, March, and April tend to have comfortable air temperatures; however, the water will be chilly. The winter months of December through February are cold despite the dry climate and swimming and camping are only for the bravest and toughest visitors. Staying in the lodge during the winter is a more comfortable option for those who don't love the heat.
Amenities Available at Havasupai Falls
If you are camping, you are responsible for bringing all necessities for sleeping and cooking for yourself. There is drinking water available in the village and at the campsites or you can bring a strong filtration system and drink from the river. Composting toilets are available in several locations in the canyon. Occasionally, TP runs low so it is wise to bring your own! There is a store in the village that provides basic necessities; however, everything is flown in via helicopter so don't expect any cheap prices and availability may be restricted. For those not wishing to cook for themselves, a cafe near the lodge in Supai village serves breakfast, lunch, and dinner. The lodge is equipped with WiFi and electricity for those of you who can't imagine a day without the internet.
Rules and Respect
The Havasupai tribe is very generous to open their land to visitors and share their beautiful waterfalls with the world. Please keep in mind that the natural landscape is fragile. Try to decrease your impact by staying on trails and taking any trash out with you. Firearms, alcohol, recreational drugs, and drones are all illegal on the Havasupai reservation. Please refrain from laud behavior and treat the land and the people with respect. Last but not least, enjoy your trip and take lots of photos!
How long should you stay?
Most people like to stay 2-3 nights. That will give you enough time to visit all the falls at a leisurely hiking pace with plenty of time to play in the water. Also, this is typically the amount of food and water supplies that most visitors are willing to hike in with. If you choose to stay longer and need a larger amount of supplies, consider sending a member of your party down in a helicopter with your supplies rather than using a pack mule.
Approximate Trail Distances
Hualapai Hilltop Parking Lot to Supai Lodge: 8 miles / 13 kilometers
Supai Lodge to Havasupai Falls Campground: 2 miles / 3 kilometers
Hualapai Hilltop Parking Lot to Havasupai Falls Campground: 10 miles / 16 kilometers
Havasupai Falls Campground to Mooney Falls: 0.5 miles / 0.8 kilometers
Mooney Falls to the Colorado River: 8 miles / 13 kilometers
*Distances are one way
Check-In at Supai Village
Once you reach Supai Village after your hike down into the canyon, you will be required to present your reservation at the Tourist Check-In Office. The person whose name is on the reservation must be present and have a photo ID handy.
Be prepared to show your campground reservation—it will have been emailed to you, so print a copy and bring it with you. There is no phone reception in Supai Village or the Havasu Falls areas.
---
About the Havasupai Tribe
The Havasupai Tribe currently sits on 188,077 acres of land in the southwest part of the Grand Canyon. When the Grand Canyon was originally established in 1919, the Tribe was allotted 518 acres in a nearby side canyon, but have since returned back to their original homelands, which includes the beautiful blue-green waterfalls they share with us today. These lands are sacred to them and they draw their strength and spirituality from it.
The population of the Havasupai Tribe is 640 and tourism is their main industry. Packing animals for trips, accommodating guests, and providing other services for the tribal enterprise is their main source of revenue. The nearest community to the Reservation is Peach Springs, 64 miles southwest from Hualapai Hilltop. The Havasupai Reservation consists of plateaus dissected by deep canyons, most notable geographic features include The Great Thumb, Long Mesa, and Tenderfoot Mesa, which converge on the Coconino Plateau at the south end of the reservation. Havasu (Cataract) Canyon, which is where the waterfalls are located, has a varied topography of the plateaus, gentle, rolling slopes, to escarpments of Kaibab Limestone.
Closest Accommodations to Havasupai Falls
This will mostly be convenient the day before or after hiking into the canyon. If you are visiting the falls, you'll be either camping or staying at the lodge at the bottom of the canyon during your time there.
---
OTHER GRAND CANYON ADVENTURES YOU MIGHT LIKE
---
---
---
---
---
---
---
---
---
---
---
---
---
---
---
---
---
---