Grand Canyon Helicopter Tours
Grand Canyon helicopter tours allow guests to peer out the window for a bird's eye view of the Grand Canyon. It is a visual feast without rival. More than a half-million visitors take a Grand Canyon helicopter tour each year. Most of these helicopter rides take off from either the Grand Canyon Airport in the village of Tusayan located just outside the South Rim, Las Vegas, Phoenix or Sedona, Arizona.
Grand Canyon helicopter tours have become increasingly popular and affordable. Not only do visitors get to fly over and through the canyon walls, but select helicopter trips also touch down at the bottom for a picnic lunch. Helicopter tours are an easy and rewarding way to see and experience the Grand Canyon and require only 1/2 - 1 day of time and can be under $200 per person. Grand Canyon helicopter tour companies upgrade and maintain their fleet often for first-class comfort, safety, passenger protection as well as environmental protection, while tour narration can be offered in up to seven different languages. Additional tours such as the Grand Canyon Skywalk are often part of popular helicopter tour packages.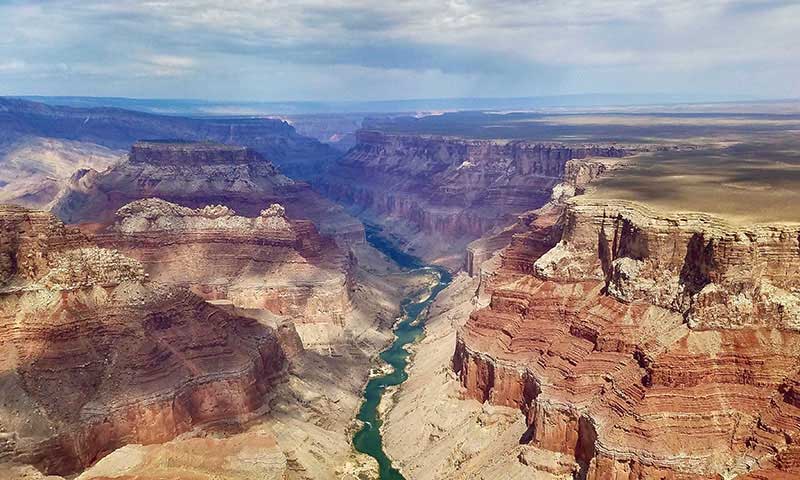 How to Choose Which Helicopter Tour to Take
No matter which Grand Canyon helicopter tour your choose, it will be fantastic! Seeing more attractions such as Hoover Dam, Grand Canyon Skywalk, or having a touchdown picnic at the bottom of the canyon are exciting, and the more you can see the better. Budget is a factor, but pick whichever tour fits within a price range that you are comfortable with. If money isn't an issue, go big! See it all! The longer the experience and flight the better, because a flight into the Grand Canyon truly is an experience of a lifetime. If you've got nervous jitters about being in a helicopter, the pilots are very helpful. Helicopter pilots explain security measures and protocol in pre-flight to help you get a better idea of the experience, and many pilots allow you sit in the helicopter prior to launch to work out some of those pre-flight nerves. It is truly an exhilarating experience that is arguably the best way to see the Grand Canyon.
How Much is a Grand Canyon Helicopter Tour?
The price of each Grand Canyon tour is based on the type of tour and the length of your tour but ranges between $200 and $500 or more. Grand Canyon helicopter companies often offer helicopter, airplane, ground, and boat tours of the Grand Canyon. Trips range from quick sightseeing tours to a trip where you land at the bottom of the Grand Canyon in a helicopter and then take a float trip on the Colorado River! The price of each tour will vary depending on the attractions and types of tours you want to experience during your time here.
---
GRAND CANYON HELICOPTER & AIR TOURS
---
---
---
---
---
---
---